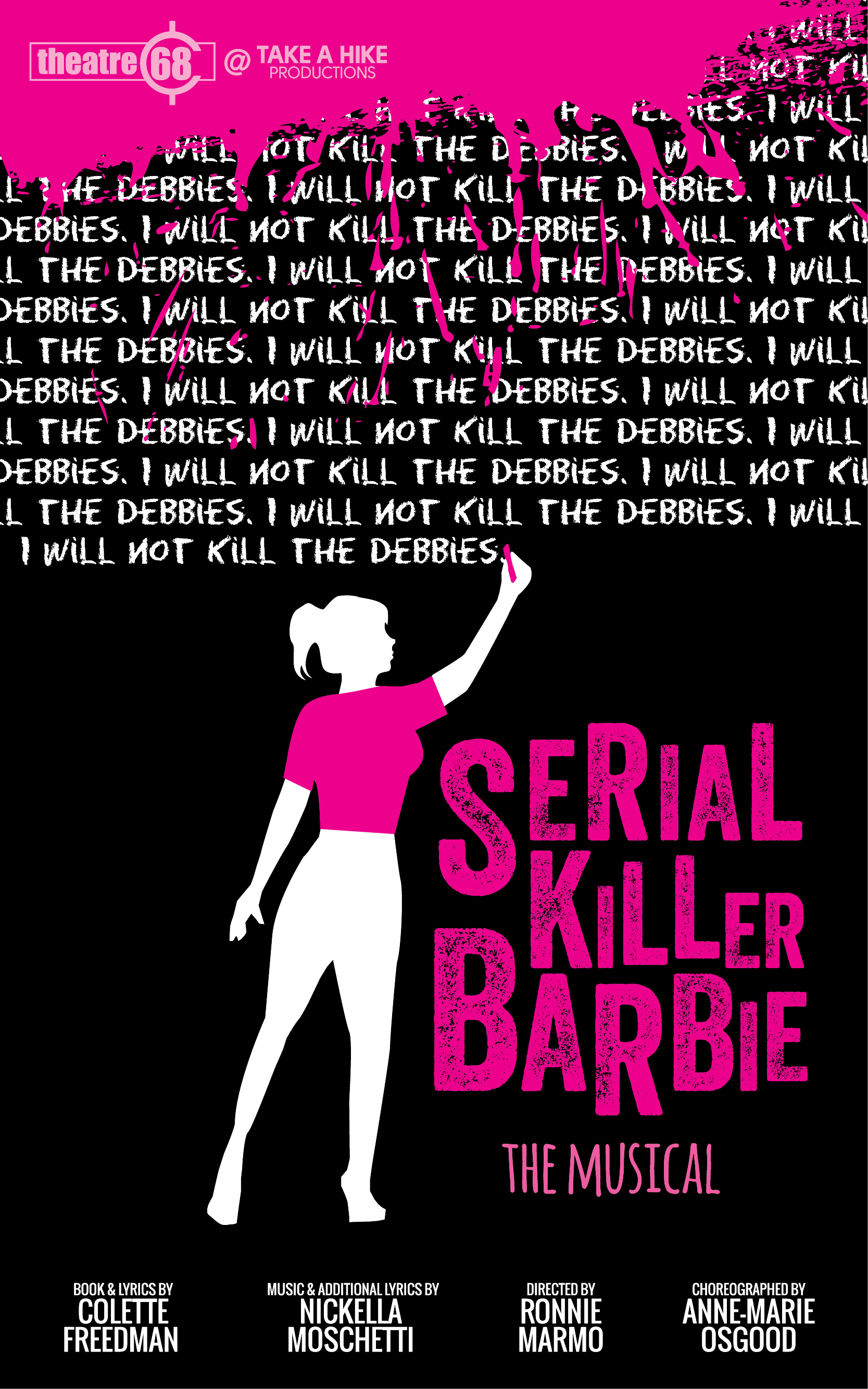 A social outcast gets her bloody revenge in Serial Killer Barbie, a new musical. Barbie just wants to be a member of her high school's popular elite, led by three divas who go by the collective name, "the Debbies." But when the mean-spirited trio make Barbie betray her kindhearted gay best friend as part of her initiation, she snaps — and that's when the killin' starts. Caustic and hilarious, Serial Killer Barbie is packed with songs ranging from rousing show-stoppers to tender ballads.
Here's what the critics are saying about Serial Killer Barbie The Musical
"This world premiere musical at the Noho Arts Center [is] a very hot ticket indeed." – Kathleen Foley, Los Angeles Times.
"Freedman's lyrics are notably facile." – Kathleen Foley, Los Angeles Times
"Freedman's book is laugh-out-loud funny." – Steven Stanley, Stage Scene LA
"The season's brightest, bounciest, and most crowd-pleasing musical surprise turns out to be Colette Freedman and Nickella Moschetti's Serial Killer Barbie." – Steven Stanley, Stage Scene LA
"Serial Killer Barbie, a world premiere musical at the NoHo Arts Center, is one delectable package." – Kathleen Foley, Los Angeles Times
MORE REVIEWS FOR SERIAL KILLER BARBIE: THE MUSICAL
" Like "Grease" and "Hair," "Serial Killer Barbie" successfully marries Top 40 with musical theater." Tom Waldman, NoHo Arts District.Com
"Killer Entertainment" – Les Spindle – Edge Magazine
"A boisterous off-the-wall satire of adolescent angst and crass social values." – Les Spindle – Edge Magazine
"A campy story of social ostracism" Les Spindle – Edge Magazine
"Book writer and lyricist Colette Freedman has added words that wittily convey the confusions, cruelty, quirks, and sweetness of a group of kids that in one, 80-minute act grow from first-graders to high school seniors. Like "Grease" and "Hair," "Serial Killer Barbie" successfully marries Top 40 with musical theater." – Tom Waldman, NoHo Arts District.com
"A sweet and very funny coming-of-age tale, punctuated with sassy musical numbers and ferocious wit." – Paul Birchall, NoHo Arts Center
"RECOMMENDED" – Paul Birchall, NoHo Arts Center
"Unusually charismatic and fresh-faced performers who artfully convey the traumas and travails of childhood and teenage years."  – Paul Birchall, NoHo Arts Center
"A night of social critique… with a side of murder." -Neon Tommy, Theatre and Dance
"Killer Voices Bring 'Serial Killer Barbie: The Musical' To Life" – Neon Tommy, Theatre and Dance
"If you want to hear a hipster's criticism on school, growing up, and pretty much life in general, head on over to the NoHo Arts Center. But you've been warned, this Barbie is one doll you do not want to mess with." -Neon Tommy, Theatre and Dance
"A wickedly comic jaunt." – Jose Ruiz, ReviewPlays.com
"Hilarious lyrics and story by Colette Freedman."   -Jose Ruiz, ReviewPlays.com
"This is one the most comical recent musical productions we have reviewed recently and certainly one you should not miss." -Jose Ruiz, ReviewPlays.com
 "A highly entertaining, wildly whaky musical, with a lot of heart, and a ton of laughs intermingled… this one is a MUST SEE!" -Pat Taylor, Tolucan Times
"A darkly HILARIOUS study of the "popularity dynamics" that explode during those formative years." -Pat Taylor, Tolucan Times
"Various issues teenagers face as they intermingle, are exposed here RIOTOUSLY, with a bittersweet vengeance!" -Pat Taylor, Tolucan Times
"Serial Killer Barbie Slays!" -Kimberly Rily, Life in LA
"A Nostalgic But Real Look at Childhood"  – Kimberly Rily, Life in LA
"The dialogue is quick and not safe for children." – Kimberly Rily, Life in LA
"Lines like, "Different isn't celebrated until college" are humorous but poignant because it's just so true." – Kimberly Rily, Life in LA
"It's so sincere and accurate. It takes some depressing facts about growing up and adds that pinch of over-the-top humor." – Kimberly Rily, Life in LA
"Serial Killer Barbie is a fun journey for anyone who has survived all 12 years of public school. It is entertaining and fun with a pinch of pain and nostalgia." – Kimberly Rily, Life in LA
"If ever a new musical could be said to "have legs" , it's Serial Killer Barbie, a show that could easily become a college theater department favorite and (with a certain amount of raunch-reduction) make every high school's must-do list—and every high school student's must-see list as well." – Steven Stanley, Stage Scene LA
"Simply put, grades 1 through 12 have rarely if ever been more entertaining than they are in Serial Killer Barbie. I can't wait to see it again." – Steven Stanley, Stage Scene LA