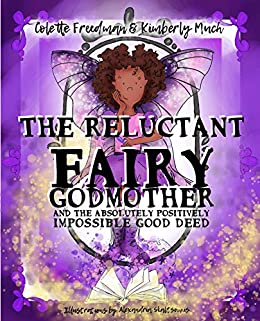 The Reluctant Fairy Godmother: and the Absolutely Positively Impossible Good Deed
From the award-winning duo Colette Freedman and Kimberly Much comes a magical coming of age story with a lot of heart.
Frankie Morgan was adopted into a large family and is convinced there is absolutely positively nothing special about her. On her 9th birthday, she gets an unusual visit from Ms. Petunia Page, her Fairy Godmother who tells Frankie she is actually a fairy godmother as well but needs to have training. Invited to the elite Fare Good Academy, Frankie will spend the next nine years "earning" her wings as she does a series of good deeds – but she mustn't tell ANYONE. Yet, secrets are hard to keep, especially when you have two nosey older twin sisters, a precocious younger sister, well-meaning parents and a greyhound who never leaves your side.
Frankie navigates her normal home life and her not-so-normal school life as she overcomes obstacles and discovers how absolutely positively special she really is.
Any kid who's felt like she's never really belonged will relate to the feisty, funny, creative Frankie Morgan