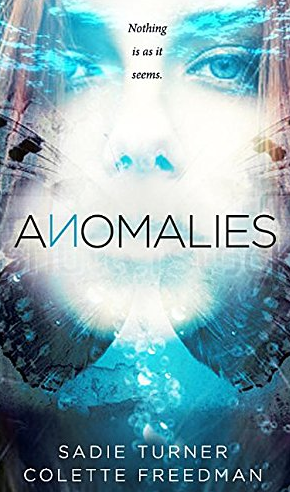 Anomalies
Keeva Tee just turned fifteen. All of her dreams are about to come true. She's about to make the trip to Monarch Camp to be imprinted with her intended life partner. One day they'll have perfect kids and a perfect life. But in her happy, carefree life in the Ocean Community, something weighs on her mind. She hears whispers about "anomalies"―citizens who can't be imprinted. No one knows what happens to them, but they never seem to come back.
When Keeva arrives at Monarch Camp, her worst nightmare becomes a reality―she is an anomaly. After imprinting, the people she loves change, and she starts to doubt everything she's ever believed. What if freedom and individuality have been sacrificed for security? And what if the man who solves all the problems is the very man who's created them―and what if he isn't a man at all?
When Keeva finds a warning carved under a bunk bed she begins to understand: nonconformity will be punished, dissent is not an option, insurgents will be destroyed.
SLJ Reviews 2016 February
Gr 9 Up—Turner and Freedman masterfully create a futuristic world where lives are carefully planned out. Individuals are paired at the age of five with their intended. Then at 15, they are reunited, given careers, and sent out to an assigned community. On the surface there appears to be no war, disease, or famine. Beneath the carefree civility lie secrets that the ruling Global Governance will kill to keep. Unknowingly caught up in a covert war, 15-year-old Keeva goes to Monarch Camp expecting to be imprinted with her life partner. When she arrives, she finds that her intended has died and Keeva is now an anomaly: a citizen who has no partner. Without the imprinting process to control her, Keeva more openly questions a society that she has always found sophistic. Who took her baby sister all those years ago? What does the Governance want with the anomalies? When will the resistance strike, and how does she fit into the plan? As Keeva uncovers answers, she has to discover who she truly is before more lives are lost and nightmares become reality. A lively story with plenty of appeal for reluctant readers, this work ends in an abrupt, unresolved conclusion. There is no doubt that a sequel is on its way. VERDICT A general purchase for libraries where Ally Condie's "Matched" (Dutton) or Veronica Roth's "Divergent" series (HarperCollins) are popular. — Claire Covington, (c) Copyright 2016 Library Journals LLC, a wholly owned subsidiary of Media Source, Inc. No redistribution permitted.
"It leaves you thinking about human nature and what makes us who we are. Bravo."
—Jason Segel
"A fast paced and compelling read which confirms we must fight for what makes us each special and unique." —Randy Jackson
"A fast paced story which champions individuality and truth. Keeva is a compelling heroine who is relatable and strong."
— Pamela Anderson
"This book makes spirituality exciting and vibrant. I predict it will be so successful that we'll all have to learn how to pronounce 'anomaly' correctly."
— Russell Brand, comedian, author, and actor
"We get to see this unusual futuristic world through Keeva's smart and unapologetic eyes. Anomalies is a whirlwind adventure with deep meaning. It has smart writing, engaging characters, and a plot which leaves you hanging on to every word."
— Max Beesley , actor and musician
"The psychological goal for every teen is to resolve the separation process by emerging as adults with their own character, opinions, and belief systems. Anomalies explores the process of teenage separation from a new, fresh, engaging, and interesting perspective. A must-read for all teens and parents."
— Dr. Fran Walfish , PsyD, Beverly Hills child, adolescent, and family psychotherapist Author of The Self-Aware Parent