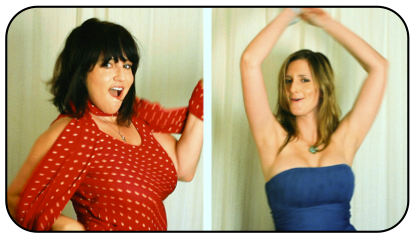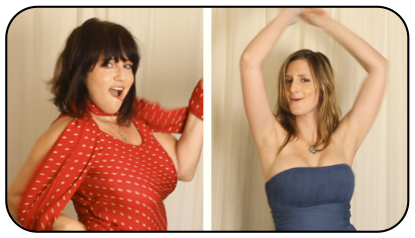 I just sat through a color correction session for my short film Bridesmaid #3, starring Jessica Noboa and Danny Lippin.
I love this process (one of the last in the post production journey of getting a film made). The director, Alli Steinberg, was going for an AMELIE look and was able to use filmmaker Daniel Gomes' genius to make this happen.
These are tiny screen grabs from the film's opening sequence in which a bunch of bridesmaids try on a medley of ugly/bright/inappropriate dresses.
There were about fifty bridesmaids total – I picked this grab because I have no problem mocking myself (yes, I tend to make small cameos in most of my projects) and the talented Meg Amsden.  As you can see, the color corrected version is bolder, clearer and both the red and the blue on the dresses pop more.
One of my favorite expressions I used to use when I directed commercials was "Let's crush the blacks". It became a catch phrase because I over used it to a nauseating degree. Still, what it means is reducing contrast… that the blacks are blacker and the whites are whiter. If you focus on my hair and the curtain behind me – this is evident.
More to come on Bridesmaid #3… the screening will probably be some time in March.