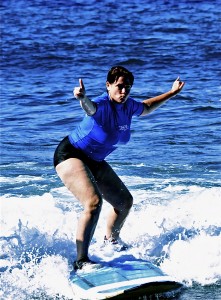 Playing field hockey for most of my teenaged years, I had developed huge body consciousness issues. In short, I have big legs. Big field hockey legs.
Heading to Maui for a much needed vacation, my big legs were the last thing on my mind…until the group of skinny women I was staying with suggested that we all go surfing. The surf was calm, the weather serene, the ocean that picturesque shade of aqua which always seems photo shopped in the pictures until you're actually standing in it and can see your perfectly painted OPI Pompeii Purple toenails gleaming in the dappled light. I donned my Miraclesuit, which claimed to make me look ten pounds lighter in ten seconds, and, ten seconds later, I joined the eight perfect bikini clad bodies on the beach.
During the lesson, they each boasted that they would be the first to stand. Silently, I knew that it was going to be me. It was I who had the big legs for strength and balance. It was going to be me. It had to be me. It would definitely be me. And it was.
For two glorious hours, I got up 18 of 19 times. I felt like a native, I felt like a local, I felt like a surf goddess. I felt beautiful. Until I saw the high def pictures the surf company took: tiny Alli, who only got up once, looked phenomenal in her yellow string bikini. Lanky Dee looked gorgeous in her svelte stance. I looked, well, big legged.
I didn't want to show the pictures to anyone. How could I? All I could see were my big legs… made seemingly bigger by the fat, which the Miraclesuit had pushed beyond the boundaries of the suit.
What was my problem? I was in Maui for the first time, a magical island filled with fantastic legends and unsurpassable beauty. I had climbed to the top of the Haleakala Crater and experienced the breathtakingly majestic sunrise, of golds and reds. I had snorkeled in Molokini with sea turtles and schools of beautifully colored fish. I had experienced the metaphor of "the Road to Hana"… a road which boasts some of the most stunning vistas known to humankind; proof that the journey rather than the destination is what really matters. And as I looked at my pictures, I suddenly realized, my journey… my never-ending journey of body self-acceptance needed a long overdue wake up call. My big legs had enabled me to stand up on my board. To experience the overwhelming sense of accomplishment that a toddler feels when she takes her first step. Lao Tzu says, "A journey of a thousand miles must begin with a single step." My single step was looking at that picture of me on that surfboard and instead of seeing big legs, finally seeing beauty.