My face is plump. Like a doll. A porcelain doll with nary a wrinkle, blemish or spot.
While Botox and Restylane are not my thing (although I have nothing against them), I personally prefer the natural way to look ten years younger…. weigh an extra two stone (that's British so I don't have to admit my gross excess) and get regular facials.
By regular, I mean once a month as they are simply too cost prohibitive to do daily….although the idea of doing a facial a day for a year is the beauty version of the foodie version of Julie Powell's challenge to cook a recipe a day from Julia Child's book.
Any takers?
But I digress. I now have a plump face…and it's all natural. When scouring the uber hip and trendy areas of Los Angeles like Silverlake, Echo Park and Atwater Village…I came across Elysian Valley, known to insiders as Frogtown. It's called Frogtown due to its proximity to the LA River and was given the moniker when Los Angeles's frog population exploded, covering streets and lawns in the 1960s and 70s.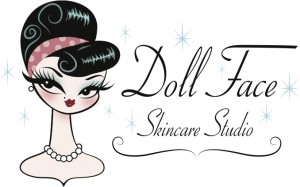 And right in the heart of Frogtown is Doll Face skincare studio run exclusively by Lila Castellanos.
Is Lila Castellanos a household name like Kate Somerville or Nadia Thibault? No, but she should be. Because after having a treatment like her, my acne ridden, wrinkled skin felt like a plump doll. Not Barbie…we're talking American Girl Doll. And I will be forever grateful. With her own retro fifties style, Lila is a one woman salon…i.e. you won't be beautified by one of her underlings. It's just Lila. And Lila is more than enough.
I entered Lila's hipster space a bit tentatively because I had just had a breakout which gave me a super unattractive fu manchu. She looked me over, was kind and said, "No problem. We can take care of this." An hour and a half later, not only was my skin plump, hydrated, youthfully glowing and smooth… there was nary a trace of my breakout.
A miracle? No. Dollface Skincare Studio. Yes.
A cleanse, mask, some dermabrasion, a peel and some extractions, Lila spent the ninety minutes whipping my face back into shape so that it was Red Carpet ready. Although I think she misunderstood that I simply have a red carpet in my living room.
I say to the celebutantes and Desperate Housewives and Real Housewives of Beverly Hills, Atlanta and New Jersey…. get that plastic surgery if you want… but a facial is a lot cheaper.