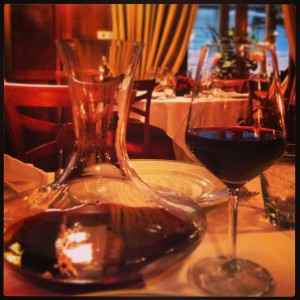 Amarone, Barbaresco,  Barbera, Barolo  Brunello di Montalcino, Chianti, Montepulciano d'Abruzzo and Valpolicella…I tried them all.
There was a lot of wine in Italy and I tried them all, often asking waiters for the best local wines they served. I sniffed, tasted, sipped, swished and drank. And I learned a few things.
1. In Italy wine is often cheaper than water.
2. In Italy, it is fairly easy to get a bottle of wine which has originated less than an hour away.
3. In Italy, everyone drinks wine
4. In Italy, trust your waiter. He/she usually can recommend a great bottle of wine.
5. In Italy, for a glass of wine simply say, "Posso avere una bicchiere di
rosso?"
6. In Italy, it is best to say, "Una bottiglia di vino per favore (um, and apparently the 'g' is silent…but I didn't learn that until AFTER I got home when an Italian friend politely told me about my mispronunciation)
I guess I'll have to go back to Italy and try again!