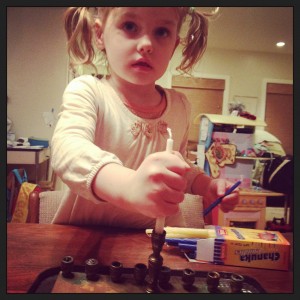 Lighting the Chanukkah candles. It's one of those time honored traditions that grounds me in my faith. And while I love both giving and receiving presents, my favorite thing is actually lighting the candles, singing the prayers and meditating on the flames as they burn down.
The problem is…year after year…the waxy buildup in the tiny holes is incredibly frustrating.
I dig out the mess with fork prongs, chopsticks, earring backs, pens, paint brush handles and paperclips. You name it, I've tried it. And while the wax eventually comes out…there are often scrapes, bruises, cuts and several band-aids which accompany the process.
Let's face it, cleaning is not my specialty.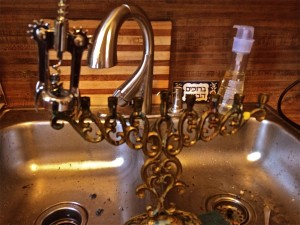 This year, when tasked with the daunting choice of which instrument to use to clean the menorah and subsequently maim myself… an idea was born.
Now, my appreciation of vino has come a long way since I first discovered wine coolers in college. Over the course of time and taste I've sampled a variety of alcohol from keg beer to piña coladas,  before my taste buds eventually committed to  full bodied reds. And with my slow education, came the evolution of my wine tools...gone are the days of the simple opener…it has been replaced by a melange of options. In fact, my instrument of choice, is the rabbit… which is not to be confused with the other popular rabbit women enjoy.
My rabbit corkscrew opens wine cleanly, efficiently and quickly.
But I never got rid of my original corkscrew. So, I rummaged through my junk drawer and found it nestled between a box of mismatched nails and a pile of multicolored ribbons. And I proceeded to uncork….my menorah.
Pretending the leftover wax was a cork, I plunged in the corkscrew and gently turned… and all of the wax from the last few decades pulled out…cleanly, efficiently and quickly.
I may not have invented the Internet or solved world peace…but I'm fairly proud of my new de-waxing menorah solution.