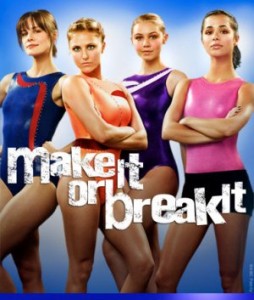 Today, my favorite guilty pleasure was just renewed for another season. Yay! There are so many reasons why Make It or Break It is a brilliant show… but for those of you who are not die-hard fans like I am, I'll break it down into a simple analogy. Make it or Break it is the modern day Wizard of Oz. Four girls have a dream…okay, this time the dream isn't because they got clunked on the head as a result of a tornado…it's a tangible, viable dream: The 2012 London Olympics. And their metaphorical ruby slippers to take them there is their strength, determination, focus, talent and commitment to their sport.
All four of L. Frank Baum's characters are represented.
Cassie Scerbo's bratty Lauren Tanner is in desperate need of a heart. She is deliciously manipulative; yet, remarkably vulnerable which makes for a decidedly complex character. She is the closest thing to comedic relief in the drama and the audience can't help but root for her. And her outrageous confidence and personality shine as brightly as the tin man's exterior. But the girl is desperate for love. She's looking for validation: from her father, from anyone who will represent a mother figure, from boys and from her frenemies. While her brain is manipulative and sassy and her courage is hardwired to win, she needs a heart to secure the gold.
Chelsea Hobbs' Emily Kmetko is the classic lion. And while she doesn't have Burt Lahr's cuddly personality, her raw talent is remarkable…even though she spends so much time doubting herself. The girl has the biggest natural gift of the group; yet, her blue-collar background precludes her from fully going for it. Emily desperately needs courage to take it to the next level… and, it's right there…if only she'd wake up and see it…especially through the eyes of her indefatigable mother Chloe- the wickedly funny Susan Ward. An outsider in the elite world… the way the lion was the only animal (I'm not really counting Toto) in our four heroes' journey, she only needs a push of confidence, courage, self-love and she could indeed become an Olympic champion.
Ayla Kell's Payson Keeler is the show's every woman. The girl has more courage and heart than her teammates… put together. In the way that the Scarecrow was our tour guide to Oz, Payson is our gateway to the sport of gymnastics; the drive, the strength, the passion, the focus. She is Nadia Comaneci and Mary Lou Retton and Carly Patterson and Shawn Johnson and Nastia Liukin. I believe she is the reason people watch the show. And, like Lauren Tanner who needs balance… Payson too needs to balance her enormous heart with a bit of brain. She is so all consumed with her passion of gymnastics, she often doesn't look around and see what's happening around her. Her courage and heart will take her far… maybe even far enough, but if she's going to win the gold… she needs to get a bit more street smart and gain some perspective about life beyond the sport.
Josie Loren's Kaylie Cruz is Dorothy. She's adorable, likable and really, really nice. And she can sing. I think that's what makes her such a compelling character…not that she can sing… her niceness. It would be way too easy to make her the snarky, bitchy one. After all, she pretty much has everything she's every wanted. And she's rich and beautiful to boot. But she's someone who really 'just wants to go home'. And I'm not convinced that her home really is gymnastics. She has yet to find her focus and passion the way the other three have… but then again, Dorothy was always just a few steps behind her colleagues dancing down the Yellow Brick Road.