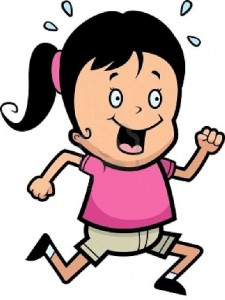 There is no other way to say it. Running sucks. I seriously don't understand the concept of a runner's high or the euphoria of the ten mile run. When friends run, they go to other places in their mind, places of peace and joy.
I find joy in a bottle of wine and macaroni & cheese.
When most people run, they find rainbows and unicorns. I only find bitterness. The last time I ran, actually ran full out was a decade and a half ago. It was the AIDS marathon which I didn't train for (pretty much lets you into the mindset of this non runner) I did it because I wanted a free trip to Hawaii. So, I raised the money and ran. I ran, run being the operative word, for the first 14 miles… until my body simply stopped and turned on me, confused why I was asking it to do something completely out of its comfort zone. I crawled the last 12.2 miles and never ran again.  Sure, I biked and swam and walked…fast. But never again did I properly run. Even the triathlons I've done were bike-swim-walks.
Which brings me to this week.Which brings me to today. Which brings me to this moment.
This moment of red faced, can't catch my breath, exhaustion and disgust. After nearly a year and a half of grief, apathy, lethargy and food and alcohol overindulgence, I've had a check in with myself. A reevaluation of sorts. Work- check. Social life- check. Health…. well, um, you see, it's like….. and after as many excuses as I could find on thesaurus.com, I couldn't find a viable reason why I was so unhealthy. So, I did the hardest thing one could do…I joined a bootcamp with a trainer. It means I'm now sharing the burden of my improbable journey to fitness with someone else. Disbursing some of the responsibility. Having a partner in this ridiculous quest for better health. Because, the fact is…I cannot go it alone. I simply don't have the willpower which immediately caves in the second someone opens a 1997 brunello or I smell grilled onions on a grilled cheese sandwich.
So, the girl who devotedly watches The Biggest Loser with either a entire box of macaroni and cheese and a six pack, or an entire anchovy pizza and a bottle of wine, is reforming. Is trying to reform. Is making the attempt at reformation.
The bootcamp is four days a week, and I'm not entirely sure I would have signed up if I knew running was involved. My best friend, a marathoner, chided me. "Of course, running is involved. It's the ultimate form of exercise. It's the fastest way to burn calories, the most efficient way to get in your cardio, blah, blah, blah." And it did sound like blah blah blah, because the minute someone mentions running, I tune out and they suddenly turn into the Charlie Brown teacher.  Which is ironic because I CANNOT TUNE OUT when I run. The trainer said, "go to a happy place". However, when I run, I go to every unhappy place I've ever been. My mind is not a pretty place when I'm running, or trying to run, or faking running by walking quickly and moving my hands back and forth so it looks like I'm running. There are no happy places in my mind when I run. Experts say the things you hate are often the best things for you: kale, cardio, running. Who knows, maybe….as I track my progress, I'll agree with the experts and grow to love to run….perhaps I'll even make an entire mile without walking and/or throwing up.
All I know, as I embark on my physical and emotional journey to better health…running sucks.