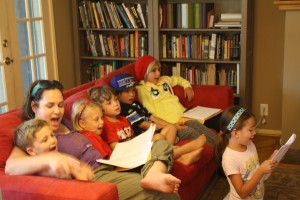 Every since The Brady Bunch jumped the shark with their musical numbers, I have wanted to sing on an album. I wanted shalala to It's a Sunshine Day and groove out in bell bottoms to We Can Make the World a Whole Lot Brighter.
Thirty years later, my dream is coming true. I am singing backup on nine of thirteen tracks (that's music speak) on the album ME LIKE ME. YOU LIKE YOU; The debut kids album of  Nickella Dee.
In a business where Talent mingles at the cocktail party with It's all who you know, I am lucky to know the uber talented Nickella Dee, who originated the role of Dallas in Sister Cities. I have been a longtime admirer of Nickella's gift for music and lyrics and remember seeing her perform for the first time in a coffee shop six years ago. After blowing away the cappuccino crowd with her piano playing set, she then whipped out a guitar and started a second set. I knew, right then, she was going to make her mark on the music world.
Me Like Me. You Like You. is the brainchild of Nickella, a mom of two, who wanted to make a cool album kids would relate to. Having read the lyrics and sung the music, I can attest that it is a fabulous album filled with love and self-empowerment and creativity. The other backup singers are a bunch of enthusiastic and adorable kids and moms who lend an authenticity of joy and fun to the well produced album.