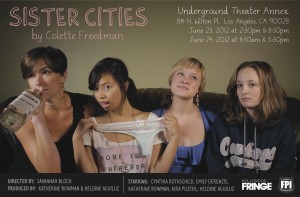 I don't think I'll ever get tired of seeing Sister Cities performed because every time I watch it, whether it's a 50 thousand dollar production with elaborate sets and celebrity names or a tiny fringe production with an old couch and a shelf full of vodka bottles, it surprises me. Each director, each cast, each production designer brings her own vision to the project and I, as both the writer and audience member, glean something.
Sister Cities is being done three times this summer. June at the Hollywood Fringe, July at the Pegasus Theatre up in Sonoma and August by Towne Street Theatre at the Stella Adler (an all African American version— I saw the reading for this a few months ago and it was absolutely wonderful)
I just sat in on the dress rehearsal for the Hollywood Fringe show. The director, Savannah Bloch, a recent USC graduate has the energy and chops to create something really wonderful which proves that age and experience are overrated. This early twenties recent graduate understood the complexities of the characters and really worked with the young actresses, fine tuning their performances to achieve something quite wonderful.
I feel like I know Baltimore, Dallas, Austin and Carolina intimately. The four sisters from Sister Cities are, indeed, all parts of my own psyche and watching various actresses play the parts over the last six years has been truly fascinating. Physically, no two actresses in any part have been the same; yet, they all 'get' the heart of the characters: Austin's strength and vulnerability, Carolina's desperate need to hold on and eventual ability to let go, Dallas's inability to see and her deep insight and Baltimore's equal passion and aloofness. Like the actresses before them, Katie, Heldine, Kira and Emily have beautifully embraced these qualities and made the characters their own. And Cynthia has done a lovely job as Mary, especially in her delivery of the game changing spider monologue.
This all female fringe cast and crew has done really wonderful work and have already been rewarded in a nice review from BACKSTAGE WEST and, hopefully, by fringe audiences who will support the show.