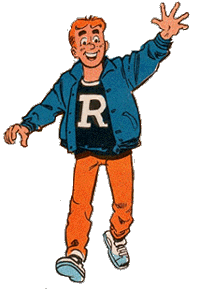 If you think about it, Gossip Girl's Serena and Blair are really just hipper, thinner versions of Betty and Veronica.
Look at the facts: Serena van der Woodsen is blonde, fun and likable. Blair Waldorf is gorgeous, wealthy and bitchy…sound familiar? And if cartoons were drawn of the pair, they'd probably look a lot like Betty Cooper and Veronica Lodge. The parallels are remarkable. Especially for the main foursome.
Cecily von Ziegesar's well crafted New York City based series about the privileged and popular teen set pays homage to a far more innocent group of teenagers, who live in the fictional midwestern town of Riverdale.
The Serena-Betty/Blair-Veronica comparisons don't stop at the good looks. They are best friends, although Blair never seems to have a problem betraying Serena in order to get what she wants. Veronica had the same shaky moral compass.
Nate ARCHIBALD (hello!) may be the obvious Archie Andrews; cute, likable, popular and the character who first beds both Serena and Blair. Yet, I think Dan Humphreys better embodies the role. He too has had his dalliances with both women, but he's more of a central character than Nate and enjoys both Archie's aloofness and his grounded behavior. And while he doesn't drive a jalopy, Dan lives in Brooklyn so transportation plays a much bigger part in his life than it does for his Upper East Side classmates.
Archie's foil, Reggie Mantle, looks and acts like Chuck Bass who is, surprise, Dan Humphries' frenemy. And Chuck/Reggie's on again- on again relationship with Blair/Veronica, further proves that the characters are interchangeable. Also, in the Spanish version of the comic book, Reggie is called Carlos… and Carlos is the Spanish name for Charles. Thus Reggie=Chuck.
Like the Archie Series, Gossip Girl's over 30 set are merely ancillary characters and GG's parents and teachers are simply thinner, prettier versions of the Andrews, the Coopers, the Lodges and, of course, Mr. Weatherbee and Miss Grundy.
There are also several characters in GG who just weren't cool enough to make the 21st century cut: Jughead, the perpetual nonconformist with the enormous appetite just isn't right tonally for the show- he's more of a Nickelodeon character. Big Ethel, despite her heroin chic stature, isn't attractive enough, and Moose Mason is really too simpleminded.
Only Dilton Doiley is pointedly missing as nerd hip is having a rebirth and there's a sexiness behind that thick black hair and little round glasses— sound like another popular YA character we know? The only thing Dilton is missing is the lightening scar on his forehead.
And maybe… just maybe… the Archie gang is taking a lesson or two from Gossip Girl and becoming more socially conscious. They recently introduced a gay character…who knows what the future may hold for the citizens of Riverdale– perhaps gay marriage is next! NOH8!