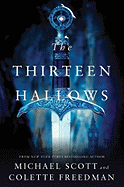 So, October is my month for covers, and we finish it with a great one: The Thirteen Hallows.
This is the new adult horror novel coming from Tor on 6th December, which I've co written with the incredibly talented Colette Freedman.
I wanted to release the official preview of the cover today because (as you will find out) and the finale of The Thirteen Hallows takes place on this very night, Hallowe'en. As you can see the finished cover, with the embossed silver sword looks spectacular.
This is a horror story based around the thirteen ancient hallowed objects of Britain. Like a lot of my work it is rooted in mythology – indeed, I first wrote about the thirteen hallows of Britain in 1995 in a novel entitled The Hallows. The other huge influence on this work is the poem The New Jerusalem by William Blake in 1808.
The poem was put to music by Sir William Parry in 1916 and has become one of the great English hymns, Jerusalem. There are many different recordings and it is usually sung at Royal Weddings, although I am not sure if people actually know what the words mean. (Though they will give you a clue to the story.)
Tor are making available a couple of ARCS Advanced Reading Copies to two lucky winners, and have just released a great book trailer.
The book will be in a shops on the 6th December.