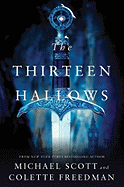 I'm incredibly excited.
The Thirteen Hallows,  is being published one month from tomorrow.
I've had smaller books published; however, this is now the big league with press agents and book signings and blogs about collaboration with my brilliant cowriter Michael Scott and fabulous book trailers with Star Wars-esque music. It's cool!
This will, hopefully, be one of many books I have published in my lifetime and I only hope that I am as excited about number 100 as I am about number one!