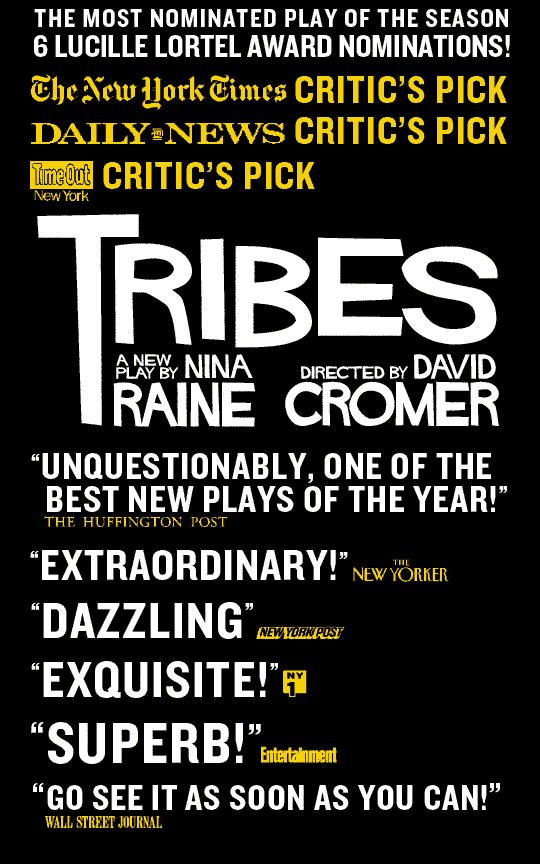 The last time I was in New York, I did my usual eat/drink/theatrical tour of the city. New York is my favorite place to see theatre because the variety is tremendous, the talent is spectacular and the audience exuberance can't be beat. I generally see as many musicals as I can because no one does big budget musicals like The Great White Way; yet, as a playwright, I like to see the best of the best when it comes to straight plays… especially Off Broadway gems… like Nina Raine's Tribes.
Barrow Street Theatre is one of my favorite Off Broadway theatres. An intimate 199 seat theatre with an easily adaptable stage, it's located in the West Village surrounded by cute restaurants, overpriced shops and my favorite street in the city, Bleecker Street.
Tribes is a play about family dysfunction at its best. Like his hearing brother and sister, Billy is is a deaf man who has yet to leave his uber intellectual, constantly bickering middle-class family's home.  With three twenty somethings still living at home with their ornery, over achieving father and frustrated, over pleasing mother, conflict is rife from the start. Fabulously acted across the board, the play thrives at Barrow Street Theatre where it is  staged in the round.  The direction is fantastic and there did not seem to be a bad seat in the house. When Billy speaks, and later signs, mixed media shows up on the stage and the walls, subtitling his words. Billy's family is a fantastic mix of the seven deadly sins; yet, they are all incredibly likable despite…or, in fact, in spite of their flaws. The parents relationship with their three children is disturbingly honest and the entire clan talks rapidly at rather with each other. It is only in the scenes between the brothers that the pacing slows and true honestly emerges… incidentally, those were the only scenes which were a bit treacly for me… but that could just be me… not the play). When Billy meets Sylvia, who is going deaf herself…he learns how to sign and discovers the true lack of communication in his own home. There are many other small plot lines interwoven in the complex story, but the story is less about being deaf than about the lack of communication amongst the hearing.
Brilliantly acted, beautifully directed and smartly produced, Tribes is the definition of what a good play can be. Next time you're in New York… walk uptown past the TKS line and the bright lights of Broadway…to 50th street, grab the 1 train downtown to Christopher Street and see Tribes.