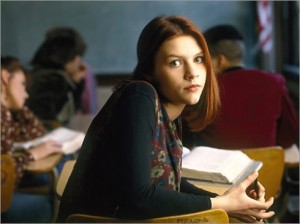 The obvious answer is because she is a genius.
And while I know I will become a devotee of Lena Dunham's HBO series Girls… as it has every ingredient I enjoy in quality tv watching…specifically honest, smart, funny females… Dunham's 'groundbreaking' show reminds me of another 'groundbreaking' show…
I'm a tv junkie: I've seen it all… and after four decades of intense television viewing, I honestly believe that MY SO CALLED LIFE was one of the best shows on ever to grace the small screen. Holzman captured teen angst at its best and, like Suzanne Collins' Hunger Games spawned an entire field of copycats in the world of YA dystopian lit, Winnie Holzman inspired innumerable teen angst series. The woman is a trail blazing genius…
Oh, yes… and she also happened to write the book of a little musical called WICKED.
When I first moved to Los Angeles and had a waitressing job, I worked at a coffee house which was inundated with celebrities. And I never lost my cool. Well, almost never. Pancakes and eggs for Rob Reiner's clan, Coffee with a straw for polite Leslie Mann, grilled cheese sandwich for…. frankly, it didn't matter. Celebs were just prettier versions of the rest of us who usually left bigger tips. I was cool, I was collected, I could 'play the part' of a waitress and serve them dutifully. And I kept that cool until Winnie Holzman walked into my diner and I dropped an entire tray of overpriced fresh squeezed orange juices. She is a genius and genius can only be respected by dropping six large glasses of $6.95 juice. My Korean boss was not happy and hurled explicatives at me, which were thankfully in Korean and thus didn't faze me as I humbly stumbled over to Winnie's table…and proceeded to babble incoherently for the next five minutes. This had obviously happened to her before, and she politely watched me stammer and sweat before smiling a beautific smile and thanking me.
There are a lot of reasons I became a writer, but there are very few writers I admire to the extent I admire Winnie Holtzman. She is a genius.