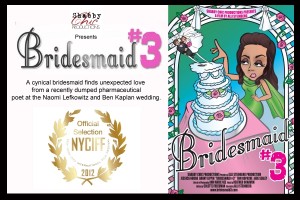 Something must be in the stars because this upcoming week is far busier than my usual 'stay-at-home-and-write-and-drink-wine-and-write-and- watch-bad-reality-tv-and-write' weeks.
Friday August 10th is the opening night for Sister Cities. This is the fourteenth production and the first completely African American cast. I am thrilled because thanks to Towne Street Theatre, suddenly my voice is multicultural.
Sunday August 12th is the opening of Red, one of my favorite plays by the brilliant John Logan and starring the equally brilliant Alfred Molina– who is not only a genius actor, he is also my co captain of the Brixton Belles for the November 4th Walk Against Alzheimer's.
Speaking of Alzheimer's, the play I am acting in at the Odyssey Theatre, Anxiety, written by the uber funny Mark Troy, is giving all of our proceeds to Alzheimer's. We open Wednesday August 15th. And, in the middle of all of these LA openings, there is an opening for my short film Bridesmaid #3 at the New York City International Film Festival on August 13th.
It's a good week… now, what to wear?