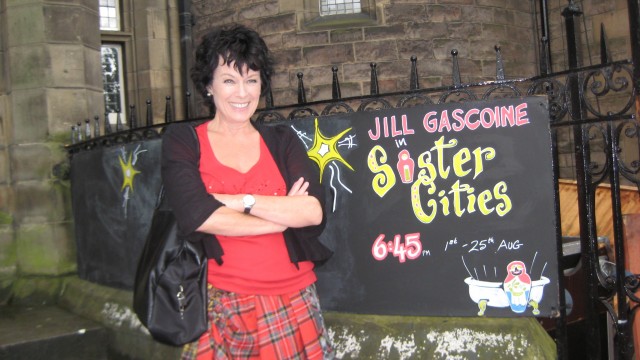 I'm angry. I am so fucking angry at Alzheimer's.
Today is my best friend Jill's birthday. She is 79 years old and the last 'real' birthday we spent together was when she was 75. It was only four years ago that her blue eyes shined, her stunning face glowed and her sharp witticisms flowed. She was ridiculously generous, ferociously smart and wickedly funny. For her 75th, I helped throw her an enormous party at which she was both literally and figuratively the life: The life of the party. Always. Because every time Jill Gascoine walked into a room, she brought life to it. They say some people have "it"…that unexplainable phenomenon that when they come near you, you feel a magnetic pull – an energy which charges your entire body.
Jill had it.
And this beautiful, celebrated, generous and funny woman is now Alzheimer's prisoner. She got a life sentence with no fucking chance of parole. And I'm angry. I'm so fucking angry there isn't a cure. I'm furious that this unkind and devastating disease took away the kindest and most spectacular person I've ever met. Jill touched so many people, with her work…with her art…with her heart. And it's all trapped in a murky, unforgiving fog.
One of my all time favorite authors Gabriel García Márquez, who was afflicted with Alzheimer's bastard cousin dementia, once said, "What matters in life is not what happens to you but what you remember and how you remember it."
I amended his quote to: "What matters in life is not what happened to you but what you remember and how you are remembered."
And while Jill can no longer remember the extraordinary personal and professional accomplishments in her incomparable life, she is remembered brilliantly. By her family. By her friends. By her colleagues. By her fans. By me.
And I realize it's ridiculous to remember someone who is still alive, but I have to. Because she is still my best friend and I am still unbelievably angry. Not because she no longer recognizes me, but because every time I tell her how she changed my life, and countless other lives for the better, she responds with a blankness. Surprised that she did anything important. That she made a real difference. And it breaks my heart that someone responsible for so much goodness…Someone who championed the underdog like no one I've ever met… Someone who believed in people even when they didn't know how to believe in themselves, is gone. Still here, but gone.
Fuck you, Alzheimer's. Fuck you.