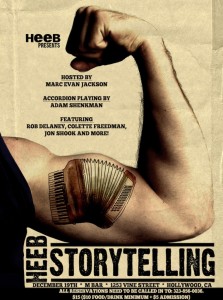 Tonight, I did standup for the first time in years…. and I had an absolute blast. It was part of a night called HEEB STORYTELLING, and if the poster doesn't knock your socks off…then the evening about Chanukah, beautifully produced by Alessandra Rizzotti would have. I didn't know a soul and did it as a dare to myself to 'get out there more' and I had a blast. Luckily, I had a LOT of support as friends came out of the woodwork to see me and I had a truly healthy group of fans. Still, when you're up on stage…you're all alone– but once the laughs start, you ease into the routine and, well… it just 'worked'. Below is  an excerpt from my bit.
"I absolutely love Channukah. Because it celebrates the two things I love most: presents and food.
And Channukah food is the best; Latkes, knishes, blinzes, gefilte fish, doritoes… I don't really discriminate. Because Channukah, though fairly unreligious, is a food oriented holiday. It says so in the source for all unprovable, unscientific information: Wikipedia. "It is traditional to eat fried foods on Chanukkah because of the significance of oil to the holiday." 
It's true. At this time of year, even my skinny jeans are a size 12.
So, it's impossible to diet on Channukah. And Jews are professional dieters;  we talk about dieting, we read about dieting…we've even created the three top diets on the market.  Not so Little Know Fact… the founders of Weight Watchers,  Nutri-System and Jenny Craig – ALL JEWS. But, the dieting spokesmodels…Valerie Bertinelli, Queen Latifa, Kirstie Alley: Catholic, Baptist, Scientologist: A Smörgåsbord of Goyim. Obviously, they didn't get the oil memo… though I find it ironic that Channukah is the holiday of oil considering Israel seems to be the only place in the Middle East which seems to be without oil.
Speaking of which… let's talk about presents in my house growing up. And let me just preface this with the fact that my father is one of the foremost experts in the world on the Middle East.   In my house, the first night was always the BEST present. The Fisher Price garage, the tinker toys deluxe set, the ant farm… and my father's books.  Every time my father wrote a book, we'd all get a wrapped copy for Channukah. And, FYI, putting colorful cartoon menorahs and dreydal wrapping paper over a book about the Middle East…does not make for great reading. Especially when you're five.
So the year I wanted an Easy Bake Oven, I got The Middle East since Camp David, and the year I was desperate for a Weebles Wobbles Treehouse, I got  The Middle East since the Israeli invasion of Lebanon. OH! And and the year I really wanted Atari Pong, The Soviet Union collapsed into three thousand tiny countries ending in beckestan…big publishing year for dad…and I smiled, and put his books on Turkmenistan, Uzbekistan, Kazakhstan, Kyrgystan, and Tajikistan on the shelf next to my Judy Blume and Dr. Seuss… The point is… I was spoiled…. I thought… I was preconditioned to think… that when  a book comes out…there's a huge celebration… you eat… and you celebrate….you are the most important person in the universe… 
So…two weeks ago, my first big book came out. Yay. Big deal… at least to my parents, who were having a dinner party to celebrate. Anyway, Tuesday was publishing day… I put on a cute outfit… okay, not such a cute outfit cuz it was from Chicos… which is a foreign word to the under forty, thin crowd…but ask your mothers…Chico's is a Jewish girl's boobs and belly's best friend. Anyway, I  made sure my camera was charged to take a picture for my parents, and I went to the Barnes and Noble. I was feeling so confident and pleased with myself, I even valeted. After all, I was a celebrity…I was a big deal…my dad was… and now it was my turn. — I honestly expected to see my book cover get priority window placement…you know, like in the movie, "THE HELP" when the books are piled up in a pyramid in the store front. But when I approached the window… there was no sign of the embossed shining silver sword which adorned the book's cover…instead, there was a big sign advertising Alison Arngrim's biography "Confessions of a Prairie Bitch". Now, I'm a HUGE Nellie Oleson fan–she's my third favorite villain after Jabba the Hutt and that hillbilly from Deliverance. So, I think…okay… no biggie, Nellie Olson got the window… I can live with that… I'll have a display greeting me as I go inside.
Yeah, didn't happen.
Steve Jobs' biography got its own table,  Star Wars Legos got its own table…even Jenny Craig authors had their own table…but  I was nowhere to be found. There was even a menorah, mocking me personally of course… as if to say 'I got a table and you didn't. But I wasn't deterred. So, I went up the escalator, three flights… still no book. Finally I asked the salesperson, casually…do you have The Thirteen Hallows?   First she asked me if I had read Nellie Olson's book, then she looked at me blankly, before I said  a little more authoritatively…look it up. She did…and pointed me back down the three flights of stairs, "Um, it's like on the new releases table". Hmmm, I had looked there already… still, I went back down…found the table…and, sure enough…. packed like a sardine along with twenty three other 'new releases', was my book.
And the reason I didn't see it the first time, was because it was on in the very back, in the middle, underneath someone's half empty Pinkberry cup. Oye. So, with little dignity left,  I moved the books in order to get a good picture for my parents….and apparently, that is not allowed. The security guard, who I've never seen do anything in my ten years of visiting the bookstore, raced over to me like I was a member of al-Qaeda. 
"What are you doing?" he shouted.
"Um, buying books?" I sputtered before grabbing the Pinkberry and downing it (it was Strawberry banana –hey, possession is 9/10ths of the law)  "Then buy the books, but don't move the books." He stood there, backing me up into a table. 
"I'm not," I retorted, as I grabbed the closest six books and raced to the counter to pay for them.  The only problem was… that they weren't my book. Not even close. They were from the Jenny Craig table. 
So this year for Channukah, everyone in my family will be getting Valerie Bertinelli's "Losing It: And Gaining My life back one pound at a time."