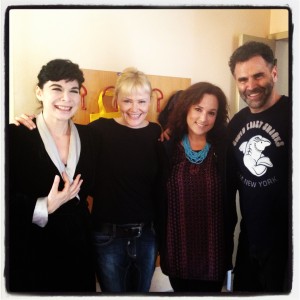 I had the privilege which I hope every playwright should have – I got to see my play performed in a different language: First Sister Cities in French…now The Affair in Italian.
Sitting in the eighth row of a gorgeous old theatre in a tiny Italian town, I got to be an anonymous patron and watch three brilliant actors portray Robert, Kathy and Stephanie…only they sounded so much classier as Roberto, Katarina and Stephania.
Gotta love the beauty of the language.
Although my Italian is spotty, I understood the show in its entirely thanks to terrific performances by Mariangela D'Abbraccio, Pino Quartullo and Chiara Noschese.
A long time believer that actors make the best directors, Chiara Noschese helmed the play flawlessly. Her pacing was EXACTLY what I like… Aaron Sorkin fast… No unnecessary precious pauses… Audience loved it.  I felt incredibly grateful to watch such a beautiful realization of my show. .. And in The heart of Italy! I can see why the reviews have been so stellar. Across the board— directing, acting, set, lighting, costumes… All top notch.
Molto bene.