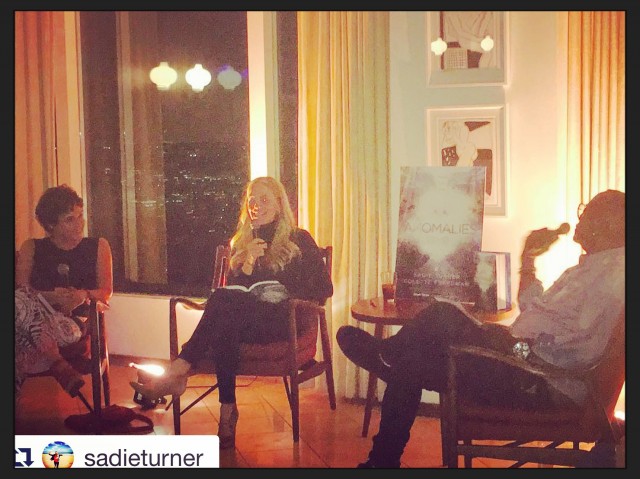 Randy Jackson is sexy.
You know when you meet someone in real life and they disappoint? I do. It's happened innumerable times. 20+ years of living in Hollywood, I have run into my fair share of celebrities, celebutantes and everyone in between. Some stun me with their magnetism and charm, others are…feh. Randy Jackson does not disappoint. The man is charismatic, enigmatic, stylistic, authentic, and every other tic word I could possibly list. He is the real deal…and he did a killer job moderating our Anomalies Q&A.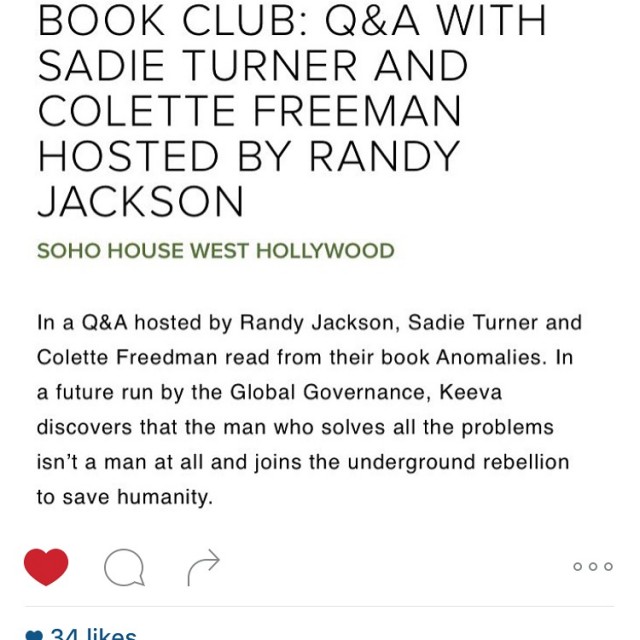 Tuesday night was my Sixth book signing. The other signings have mostly been in bookstores across the country from independents to chains. Tuesday night was at the famed Soho House where Hollywood's elite gather. Where the paparazzi are forbidden. Where the rich and famous congregate.
Now, I am neither remotely rich, nor vaguely famous; however, the Soho House makes a great Truffle Pizza and I am never one to turn away a good carb. It is also where my writing partner organized a reading and I am always more than happy to pimp my new work.
In addition to securing Randy Jackson, my talented writing partner Sadie Turner did a brilliant job packing the room with fans and supporters. The capacity was 80 and we were overfilled. Mostly with Sadie's peeps; however, a few of mine represented as well: Half a dozen to be exact. And while I was fielding questions from the decidedly sexy Randy Jackson, I spent a lot of time appreciating my friends who were there. Look, I get it….it is not easy driving through Hollywood traffic, doling out 20$ for a glass of mediocre wine and putting on makeup (okay, I might be complaining about myself right now) but they did it.
And as I looked into the audience, I realized that each one of them, in addition to being a huge support system, represented a seminal artistic moment in my life.
*Jen Prince -genius lead producer of Quality Problems, Brooke Purdy's stunning comedy about cancer I co-produced and acted in. This Prince is a Queen:  A  badass who can do, literally, anything.
*Devon Hadsell – the first person cast in Serial Killer Barbie Musical. The kid is right on Sutton Foster's heels to become the next big Broadway star
*Michelle Trachtenberg – plays Dallas in Sister Cities film. She is, in a word, a revelation in this film. Sean Hanish gets major props for this unconventional casting choice. Michelle's depth, humor and passion are mind blowing.
*Vanessa Waters -a kick ass quirky and exciting actress and star of Blind Spots. Married to the equally kick ass actor John Kassir, star of stage and screen.
*Kerry Hart – phenomenal singer and the only musician for whom I'll leave my house and head over the hill. (okay, technically she wasn't part of any of MY artistic triumphs, but the girl has pipes…so I'm going to take credit for her…somehow)
So, Sadie had about 85 people in the room. I had these six. These priceless six: each one of them meaning more to me than I can express. And as I answered questions and spoke about Anomalies, a YA book of which I am unbelievably proud, I felt safe. I felt confident and I felt loved.
Who could ask for more.
Except perhaps Randy Jackson's number.