Today I met my childhood doppe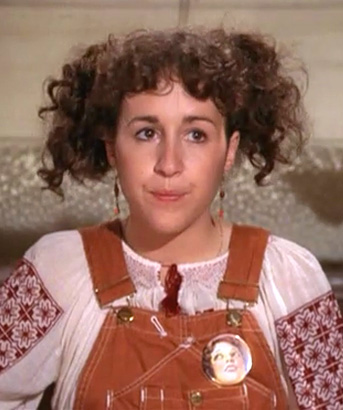 lgänger.  Granted, it was three decades after the fact, but it was well worth the wait. Growing up a chubby Jewish kid with frizzy hair who wanted nothing more than to sing and dance and act…there was no better role model for me than Doris Schwartz; the heart of TV's 1982-1987 series FAME.
Like Doris, I wanted to live for ever. I wanted to learn how to fly. High. I felt it coming together. People would see me and cry…FAME.
Except…they never did.
Mostly because the only thing Doris and I really had in common was our passion and our frizzy hair. I couldn't sing or dance. I didn't go to the High School of Performing Arts, I went to Beth Tfiloh Day School. I certainly didn't have an awkwardly cool clique like Montgomery, Bruno, Leroy, and Coco.  My best friend wasn't Danny Amatullo, a comedian who dallied with uppers and had  father issues. My best friend was Becky Eisenberg, a beautiful, gifted brain who loved to read and could sail.
So Doris and I went our separate ways. I played lacrosse and field hockey and got two fairly useless academic degrees while Valerie Landsburg went on to have a successful career, becoming a quadruple threat. While she was Acting, Writing, Directing and Producing… I was busy spending a LOT of money at CVS and Walgreens trying to find the perfect product to tame my frizzy JewFro.
But her spunk and talent never left me. She helped me through those incredibly awkward years along with Judy Blume and a lot of Macaroni and Cheese. When I became a writer, I channeled Doris. A lot of my funny flawed female characters are based on a healthy combination of me and Doris.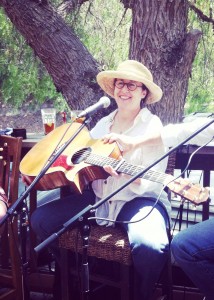 There has always been a built in aspirational level on shows set in manufactured high schools. 90210, Degrassi, Buffy, Freaks and Geeks, Pretty Little Liars, Glee, Gossip Girl, My So Called Life,  Saved by the Bell, Veronica Mars... and I've seen them all. And other than the fact that clearly I watch too much television, is the realization that most of teenage angst is manufactured. It is put on. It is fake. Claire Danes's  Angela Chase is one of the two exceptions to that rule. The second is Valerie Landsburg's Doris Schwartz. Because, to me, she was real. Landsburg's commitment and vulnerability made Doris Schwartz a fully fleshed out character. She felt what I felt. She looked like I looked. I felt her pain and pathos and hunger and drive. I got her jokes and appreciated her chutzpah. She was both flawed and likable.
Yesterday, after a long hike in Topanga Canyon, I stopped for lunch at a local eatery. And which singer-songwriter-musician was entertaining the laid back crowd….none other than Valerie Landsburg. Her voice was just as strong and she played a melange of instruments, proving the fact that one only gets more talented as she gets older. Doris Schwartz certainly has.
And don't even get me started on the genius of Carol Mayo Jenkins.