What do you even begin to say about the best person in the world?
I've been writing this eulogy in my head since Jill got Alzheimer's, because that is when she died for most of us.
When she was diagnosed, I wish I had had the guts to squeeze her so damn hard that I hugged all of the life out of her. It wasn't fair that such a cruel disease took one of the best people. One of the best minds. Jill's brilliant mind… her kind mind…her generous mind….her interested and interesting mind. Because that's the thing about Jill. She was both interested and interesting. Most people are only one or the other, but Jill was both and it was one of the reasons she was so extraordinary. She was one of those few people you meet who have "it"… "It" is an intangible thing, but you know someone has "it" when they walk into the room and everyone turns. It's not about being beautiful, which Jill was, it was about radiating an invisible magnetic force that would draw people to her. 
My Jill. My beautiful, generous, funny, deadpan, loving Jill. Jill who handed out $20 bills to homeless people like they were Tic Tacs. Jill whose unapologetic laugh lit up the universe. Jill who always hosted Thanksgiving for orphans, once taking half of the theatre company to the Bel Air Hotel for brunch because…why do things small? Jill who made everyone she came in contact with feel important because she looked into their eyes and really listened when they talked. Jill who loved her dogs more than people, and felt most at home in her garden… or binge watching Charmed… before binge watching even became a thing.
Jill who meant what she said and said what she meant.
Jill who loved her sons with a maternal fierceness and passion that you almost felt like a voyeur in her intense love for the two spectacular men she created. Jill who loved her husband with her entire enormous heart and loved the life they had created together from buying glasses at the 99 cents store and living in Park LaBrea, to building a warm, inviting and exquisite home together – despite her questionable love of dried flowers.
Jill who loved fiercely and hard: People, animals and experiences….Whether it was enjoying dry martinis or buying fancy shoes, she splurged equally on her friends and herself.  And even though she loved a good meal, Jill was a professional dieter who treated dieting like an Olympic sport.  One of my favorite diets of hers (of which I participated in many) was our vegan fiasco. Jill told me a month before we went to perform at the Edinburgh Fringe festival, that we would be drunk every night, so that we should diet to lose weight. So, we both became vegans for the month and we each gained 20 pounds.  Jill wanted the title of her biography to be "The Little Fat One on the End" because she was convinced that she didn't have the ideal dancer's body – even though she went on to star in 42nd Street in the West End.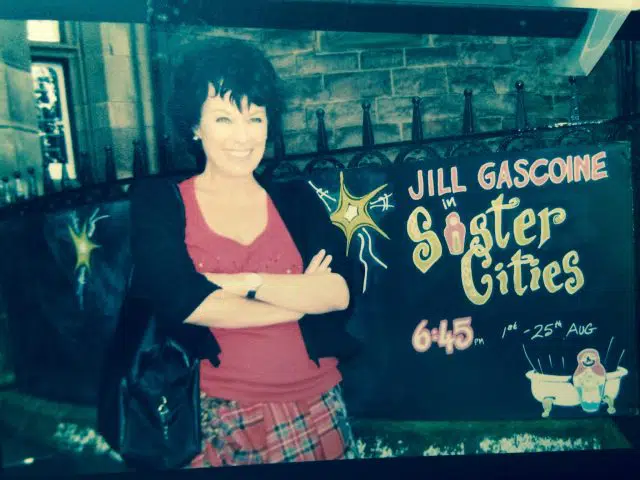 Oh, and Jill was right, which she invariably was, in Edinburgh we did get drunk every night…and celebrated her spectacular performance and her 'coming home' so to speak. She was the star, and given the well-deserved adulation, both from her cast who adored her, and the audiences who welcomed her home. She began her career in Scotland she used to say "as poor as a dormouse" and she became a star. Her best friend Michael O'Hagan helped her, and from that kind gesture, she spent her life helping others. Michael has passed over to the other side, and now she gets to see him. She gets to see Mark Troy and Francis and Charlie and Zena and Nancy and Ernie and Gizmo and Ella and every one of the myriad of animals and people Jill rescued in her life and loved ferociously.
And Jill loved ferociously. She led with her heart and inspired others to do the same.
Because Jill was not just a mama bear to her sons, she was one to everyone she came into contact with. She took us all under her protective wing and helped nurture us, until we were ready to fly. Encouraging us, Championing us, Believing in us.  There are too many actors to count, whom Jill generously helped because she was the heart of every theatre company she was in. She started a theatre company with her first love, and I had the honor of being in two theatre companies with her, where she stole both the audiences and the artistic directors' hearts. She was their muse. She was our muse. Every single one of us who came in contact with her. Because Jill was never about Jill, she invariably spent all of her time making it about the person she was with. She made you better by putting her energy on you.
And she didn't pull punches, it was one of her best qualities.
She told me when I was 24, "Darling, nothing is going to happen with your career until you're 40." I was heartbroken. "What am I supposed to do until then?" I asked her and she looked at me, curious, like there was any answer except the one she was about to give me. "Be happy." It's an ironic statement from someone who suffered from depression, but Jill knew how to be happy. She knew how to dive into the deep end of life whether it was trying out a cooking recipe, entertaining, acting, watching a film, having a drink, writing a novel… Jill did it 100%. She truly never did anything half assed.
She was a consummate actress. She was the perfect friend. And my heart is broken. But it broke when she got Alzheimer's and faded away in front of me. So, it's begun to heal. And the best way I can honor Jill, how any of us can honor Jill is to think WWJD.  Whenever you don't know the answer to something difficult, stop and think, what would Jill do? Because whatever the answer is, it will definitely be led from the heart.